Start / Living in the landfills
LIVING IN THE LANDFILLS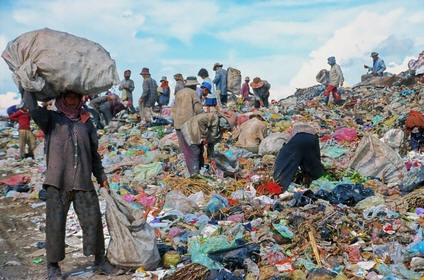 According to the World Bank in its article of 09/20/2018 "Waste: an updated analysis of the future of Solid Waste management", more than 15 million informal waste collectors in the world (women, children, the elderly, unemployed or immigrants), continue to live off the dumps of large cities in unsanitary conditions, lack of social protection or health insurance and persistent social stigma.
Hundreds of thousands of them, are forced to live in shacks that they have made themselves in the same dumps with the rotten smell, insects and infections that can be caught in these conditions.
The life expectancy of these citizens is about 37 years.
Central and South America, Asia and Africa are the continents where more people live with these humiliating conditions:
AMERICA
HAITI
12/09/2018.- Some 2.000 people (500 families) survive in the Truitier landfill, north of Cite Soleil in Haiti. 60% of the 10,5 million Haitians do jobs earning two dollars a day or less.
https://apnews.com/article/50c5062763b64fe297b643815fbd6568
DOMINICAN REPUBLIC
13/05/2020.- 5.000 so-called "divers" are submerged daily in the waste in what they consider "their job".
Buzos del vertedero de Duquesa retan el peligro del fuego - Periódico El Caribe
GUATEMALA
07/05/2020.- There are approximately 30.000 people living in the zone 3 landfill.
https://www.plazapublica.com.gt/content/sobrevivir-una-ciudad-y-una-pandemia-desde-el-basurero-de-la-zona-3
MEXICO
13/08/2020.- Nezahualcóyotl (State of Mexico), despite COVID-19, around 250 garbage collectors continue to enter the municipal dump every day.
https://politica.expansion.mx/estados/2020/08/13/si-no-traes-cubrebocas-no-trabajas-asi-laboran-los-pepenadores-de-neza
CHILE
08/07/2018.- La Chimba landfill, a sanitary landfill where 170 collectors search the garbage every day to survive and support their family. Thousands of people live in this sector in Chile.
https://www.youtube.com/watch?v=SJwMGRS4sqI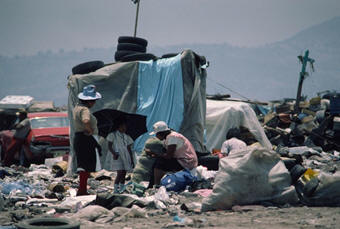 ARGENTINA
14/10/2021.- 500 families that live looking for food and cardboard in Mar del Plata.
https://www.youtube.com/watch?v=KKMH7wHxfpo
COLOMBIA
17/01/2022.- Entire families scavenging through the garbage to eat. Amid tons of waste, hundreds of Amorúa indigenous people, including children, hover in the sanitary landfill in the capital of Vichada.
https://m.facebook.com/CaracolTV/videos/la-dolorosa-imagen-de-ni%C3%B1os-buscando-comida-en-el-relleno-sanitario-de-puerto-ca/265640852325135/
ECUADOR
08/03/2021.- In Ecuador there are 20 thousand people dedicated to recycling. In the cities of the mountains, 70% are women, almost all without access to social security.
https://ecuador.un.org/es/115575-recicladoras-de-base-mujeres-en-la-primera-linea-de-accion-por-el-clima
PERU
07/28/2020.- Many families in Peru have no other option than to live there and survive by collecting plastic and cardboard among the waste of the cities.
https://misionessalesianas.org/noticias/emergencia-coronavirus-basurero-peru-2807/
PARAGUAY
03/08/2020.- There are about 500 gancheros who recycle at this Cateura landfill.
https://www.cronica.com.py/2020/08/03/gancheros-laburan-miedo-la-incertidumbre-la-esperanza/
https://www.lanacion.com.py/ojo/2018/09/05/gancheros-de-cateura/
ASIA
INDIA
24/07/2020.- New Delhi, Hundreds of people, including children, search for remains working without any type of protection, they are exposed to a disease that has infected more than 15 million people worldwide and has left more than 600,000 dead.
https://www.reuters.com/article/idLTAKCN24P1XX
BANGLADESH
01/07/2020.- Motouil landfill in Dhaka, dozens of people select materials to be recycled around several excavators that remove the remains.
http://www.ivanfaure.com/vertedero-de-motouil-en-dhaka-bangladesh-motouil-landfill-in-dhaka-bangladesh/
PHILIPPINES
18/12/2020.- In Manila 50,000 people live from their recycling without any type of equipment among millions of tons of waste.
https://www.youtube.com/watch?v=2lmYvsskAMU
INDONESIA
10/27/2018.- Some 18,000 families live on the huge garbage dump in the capital Jakarta. In Indonesia there could be up to 5 million garbage collectors with these conditions.
https://www.eldiario.es/theguardian/Decenas-indonesios-vertedero-Sureste-Asiatico_0_829067481.html
CAMBODIA
18/12/2020.- The Declaration of the Rights of the Child specifies that minors must be protected from all forms of abandonment, cruelty and exploitation. Far from it, many work part-time or full-time for up to 12 hours a day at the Anlong Pi landfill in Cambodia.
https://www.naiz.eus/eu/gaiak/noticia/20201218/turismo-sucio
THAYLAND
02/05/2017.- There are currently 300 Burmese living in and around the Mae Sot dump, we eat wasted food if it's good enough. We cook it, if necessary. We make our living collecting discarded and recyclable materials and selling them.
https://www.irrawaddy.com/features/burmese-migrants-continue-to-eke-out-a-living-in-garbage-dump-on-thai-border.html
AFRICA
MADAGASCAR
02/21/2018.- In Antananarivo more than 3,000 people live from the landfill in Ralalitra for less than 65 cents a day.
https://elpais.com/elpais/2018/02/14/album/1518606102_852615.html#foto_gal_1
ETHIOPIA
03/09/2017.- A mountain of garbage collapsed the fetid Repp dump, on the outskirts of Addis Ababa, killing at least 82 people. It could have been worse, hundreds of people live on Repp.
https://cnnespanol.cnn.com/2017/03/12/mueren-decenas-de-personas-por-deslave-en-vertedero-de-basura-en-etiopia/
MOZAMBIQUE
09/03/2018.- At least 17 collectors died in Maputo after an avalanche of garbage caused by heavy rains.
https://elpais.com/elpais/2018/03/04/seres_urbanos/1520153449_119572.html
EGYPT
2018.- "The Garbage City" with a population of 60,000 inhabitants, mostly Coptic Christians, collect the garbage from "Cairo" which they then take home to recycle.
https://www.youtube.com/watch?v=phpDOvkEZZk
According to ILO data in 2016, 73 million children between the ages of 5 and 14 work in hazardous child labor and some 500,000 in landfills in Latin America.
https://www.ilo.org/global/topics/child-labour/lang--en/index.htm
In this article only some dumps where we have found news are mentioned, so there are many more that we have not located news by any means of communication.
This article has the purpose of publicly denouncing the abuse and inhumane treatment that these sectors of the population have without any profit motive. If any of the named sources of information does not want it to be included in this information, please let us know by sending an email to Contact.